Here you will find answers to many questions we frequently receive from patients. If you have other concerns not addressed on this page, please
contact us
.
About Prostate Cancer
What is the prostate?
The prostate is a small gland that is part of the male reproductive system. A normal, healthy prostate is about the size and shape of a walnut. It lies below the urinary bladder and surrounds the upper part of the urethra. The urethra, the tube that carries urine from the bladder and semen out through the penis, runs through the center of the prostate. Because of its position, an enlarged prostate can squeeze the urethra causing urinary problems.
How prevalent is prostate cancer?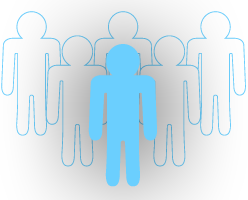 Prostate cancer is the most commonly diagnosed non-skin cancer in North American men, and is the second leading cause of cancer death in men after lung cancer. The Canadian Cancer Society estimates over 21,000 men were diagnosed with prostate cancer and 4,400 have died of it in 2016.
On average, 490 Canadian men will be diagnosed with prostate cancer every week.
On average, 85 Canadian men will die of prostate cancer every week.
One in 6 men will develop prostate cancer during his lifetime, mostly after the age of 60. One in 27 will die of it.
Where does prostate cancer spread?
Prostate cancer can spread locally through the prostate, through the prostate capsule, and into the fat surrounding the prostate. It can also spread to the base of the bladder and to the seminal vesicles, which are located behind the prostate.
When tumours spread into another area beyond the prostate, it is referred to as "metastasis." Prostate cancer can metastasize into the lymph nodes or into the bones.
What options do I have for treating localized prostate cancer?
There are a number of different options for how localized prostate cancer can be treated, each has its own risks and benefits. Primarily patients choose between watchful waiting, surgery, and different types of radiation therapy. Alternative prostate cancer treatments such as HIFU are becoming increasingly popular because they are non-invasive and better address the patient's quality of life after cancer treatment. Your treating physician will discuss the most appropriate option for your specific case.
How is prostate cancer diagnosed?
Early stage prostate cancer may not exhibit any symptoms. It's important to get tested every year in order to identify any abnormalities, especially for men over the age of 50. The most common combination for diagnosing prostate cancer is the DRE (Digital Rectal Examination) and the PSA (Prostatic Specific Antigen) blood test.
About HIFU Treatment
What are the potential side effects from HIFU treatment?
Retained Prostate Tissue
All men with a total prostate ablation will be sent home with a supra-pubic catheter. After the treatment the patient may see sloughed whitish prostate tissue coming through the catheter. Sometimes all of the dead prostate tissue is not sloughed. If that is the case, you may not be able to fully empty the bladder. To correct this problem your local urologist may have to scope you in order to scrape out the dead tissue.
Urethral Stricture or Bladder Neck Contracture
Sometimes because of the heating or destruction of any tissue the body may heal with a scar. Most people expect to see this scar on the outside if they have had surgery. Occasionally (1% to 3%) after the HIFU treatment some individuals will heal inside with either a scar at the bladder neck (contracture) or in the urinary passage (stricture). If this occurs, it can usually be easily corrected by your local urologist by stretching (dilating) the narrowed areas under local anesthetic.
Urinary Tract Infections
Whenever an instrument is placed in the bladder (catheter) there is a risk of introducing infection. The HIFU patients are given antibiotics before the treatment and prescribed antibiotics after the treatment that should be started the day before the removal of the catheter. Both sets of antibiotics are given to prevent the development of a urinary tract infection.
If at anytime after the treatment the patient develops fever, chills, significant burning when voiding or persistent blood in the urine, he should speak to his local urologist or family physician.
Is HIFU approved by Health Canada or the FDA?
Yes. HIFU for the treatment of prostate cancer was approved by Health Canada in June 2005 and by the FDA in the United States in October 2015.
Do I have to change my lifestyle before or after HIFU?
No, there's no need for you to alter your lifestyle. There are things, however, that you can do to improve your chances of faster healing.
In general, adhering to a healthy diet and a regular exercise routine is recommended. View this PDF guide for more information: "Nutrition, Exercise and Prostate Cancer".
What do I need to do before the procedure?
Two weeks before the procedure, provide us with your recent blood work, biopsy results, ultrasound results, and EKG.
Five days before HIFU, stop taking prescribed anti-coagulants if you're able. Stop taking all blood thinners, such as aspirin.
One day before HIFU, only consume clear fluids.
One day before HIFU, purchase 2 enemas.
In the morning, on the day of the procedure and before arriving at the clinic, take the enemas (with a 30-minute break between them) and empty your bowel.
Do I need to have an MRI before HIFU?
We only recommend an MRI scan when qualifying a patient for a focal HIFU treatment. If you have been approved as a candidate for total ablation, an MRI scan is not needed.
If you are a candidate for focal HIFU, we will request an MRI scan to confirm the biopsy results. If additional suspicious sites are shown by the MRI, we will then recommend an "MRI-Ultrasound fusion" targeted biopsy for a more precise diagnosis and tumour location.
We are able to expedite the MRI. Please inquire at the time of your consultation.
Am I a candidate for HIFU?
To find out if you're a candidate for HIFU treatment, send us a message detailing your health history and most recent blood work, biopsy, and ultrasound results.
Administrative Questions (Appointments, Referrals, Insurance Coverage, etc.)
How can I request an appointment?
Call our office at (416) 924-9760 ext. 2 or +1 (877) 787-5906). You may also send a request via our contact page.
Do I need a referral for a consultation?
No, referrals are not required.
When will I be seen by a doctor?
We can generally assess your HIFU eligibility within 1-3 business days based your PSA test result, biopsy and ultrasound. If you're approved as a HIFU candidate and will be coming in for an initial appointment at the clinic, we're able to see the patients within 7-14 days from the booking request.
If you're flying in to receive your treatment, we will consult with you via email and/or by phone prior to the procedure as needed, and will meet you on the day of the procedure.
Is the treatment covered by OHIP?
The initial consultation is always free to Ontario residents eligible for OHIP coverage. Non-OHIP patients may be subject to a consultation fee.
HIFU treatment is not currently covered by OHIP and other provincial health insurance plans in Canada.
Do you accept private insurance?
Yes, we work with many insurance plans. However not all our services may be covered by your insurance plan and some require an insurer's written approval. Check with your insurance provider for details about your coverage.
Are treatment fees tax-deductible?
What do I need to know about my first appointment?
If you're coming in for an initial consultation, please arrive 15 minutes prior to your scheduled appointment to give yourself time to fill out a patient form.
Bring the following information with you:
List of all medications you're currently taking
Copies of records, blood work, biopsy and ultrasound results, all paperwork related to your condition from your family doctor or referring physician
Your insurance card if applicable
What if I need to cancel or reschedule an appointment?
If you're unable to keep an appointment or need to reschedule, please let us know as soon as possible so that we can accommodate another patient.
Appointments canceled within 24 hours prior to the appointment time may incur a fee charged directly to you.
Information for non-Ontario Canadian, US, and International Patients
Referrals
We accept doctors' referrals as well as self-referred patients.
In order to make an appropriate decision as to your care, we'll need a comprehensive outline of your condition. While physician referrals are not required, we will still request a copy of your medical records once it's determined that you're a candidate for treatment at our clinic.
Visa Requirements
American citizens must have a valid passport to enter Canada. Visa is not required.
As of March 15, 2016 citizens of other visa-exempt countries are expected to have an Electronic Travel Authorization (eTA). Please visit Canada Immigration and Citizenship website for more information: http://www.cic.gc.ca/english/visit/visas.asp
Travel and Lodging
Our clinic is conveniently located just 10 minutes from the Billy Bishop Toronto City Airport (serving the US destinations) and 30 minutes from Toronto Pearson International Airport (serving worldwide destinations).
Nearby hotels are listed below from the closest to the farthest from our clinic.
DoubleTree by Hilton Hotel Toronto Downtown
108 Chestnut Street
Toronto, Ontario, M5G1R3, Canada
Phone: +1 (416) 977-5000
Website
Toronto Marriott Downtown Eaton Centre
525 Bay Street
Toronto, Ontario, M5G 2L2, Canada
Phone: +1 (416) 597-9200
Website
Chelsea Hotel
33 Gerrard Street West
Toronto, Ontario, M5G 1Z4, Canada
Phone: +1 (416) 595-1975
Website
Sheraton Centre Toronto Hotel
123 Queen Street West
Toronto, Ontario, M5H 2M9, Canada
Phone: +1 (416) 361-1000
Website
Hilton Toronto
145 Richmond Street West
Toronto, Ontario, M5H 2L2, Canada
Phone: +1 (416) 869-3456
Website
Shangri-La
188 University Avenue
Toronto, Ontario, M5H 0A3, Canada
Phone: +1 (647) 788-8888
Website
Four Seasons Toronto
60 Yorkville Avenue
Toronto, Ontario, M4W 0A4, Canada
Phone: +1 (416) 964-0411
Website