Making a decision about your prostate cancer treatment can be very confusing. The good news is, if you are focused on the biochemical disease-free rate – the PSA level after treatment –  most therapy options are nearly equal.
Many men, however, also worry about their quality of life after the prostate cancer procedure. In consultation we often hear questions such as "Will I regain the same erection as before the treatment?" and "Will I have total control of bladder after the procedure?" This is where the choice of prostate cancer treatment option matters the most because the results vary so widely depending on the procedure.
When treating a patient for prostate cancer, we have three objectives – the "trifecta" – on which we base the success of the procedure:
Cancer control: PSA levels
Continence: normal urinary function
Potency: preservation of erectile function
Sonablate HIFU is precise and flexible, allowing our physicians to customize the treatment plan to each patient's prostate cancer diagnosis with the goal of achieving these key objectives. Below is a summary of the different levels of treatment customization and their clinical results.
HIFU vs Other Therapies: Sexual Function and Continence After Prostate Cancer Treatment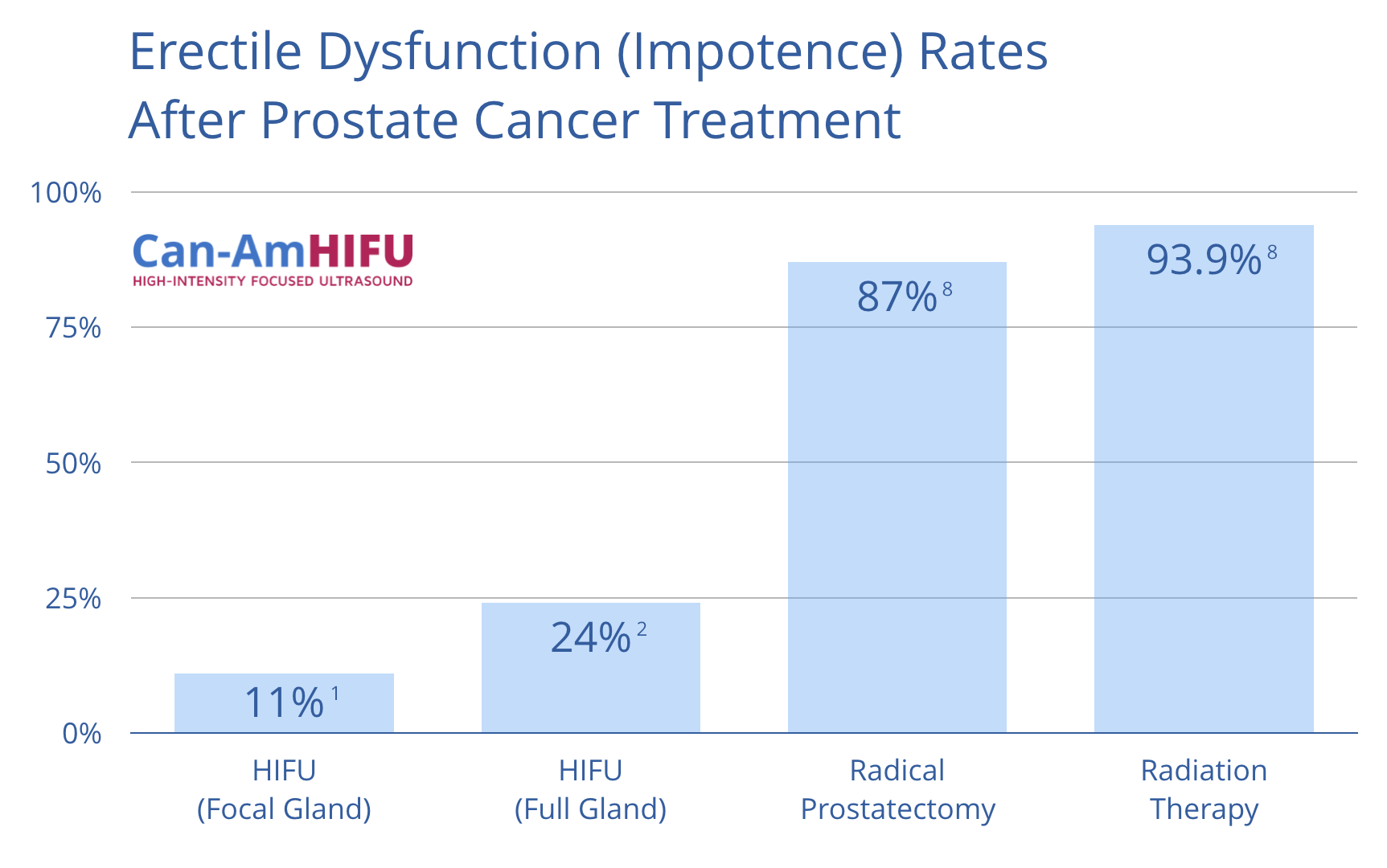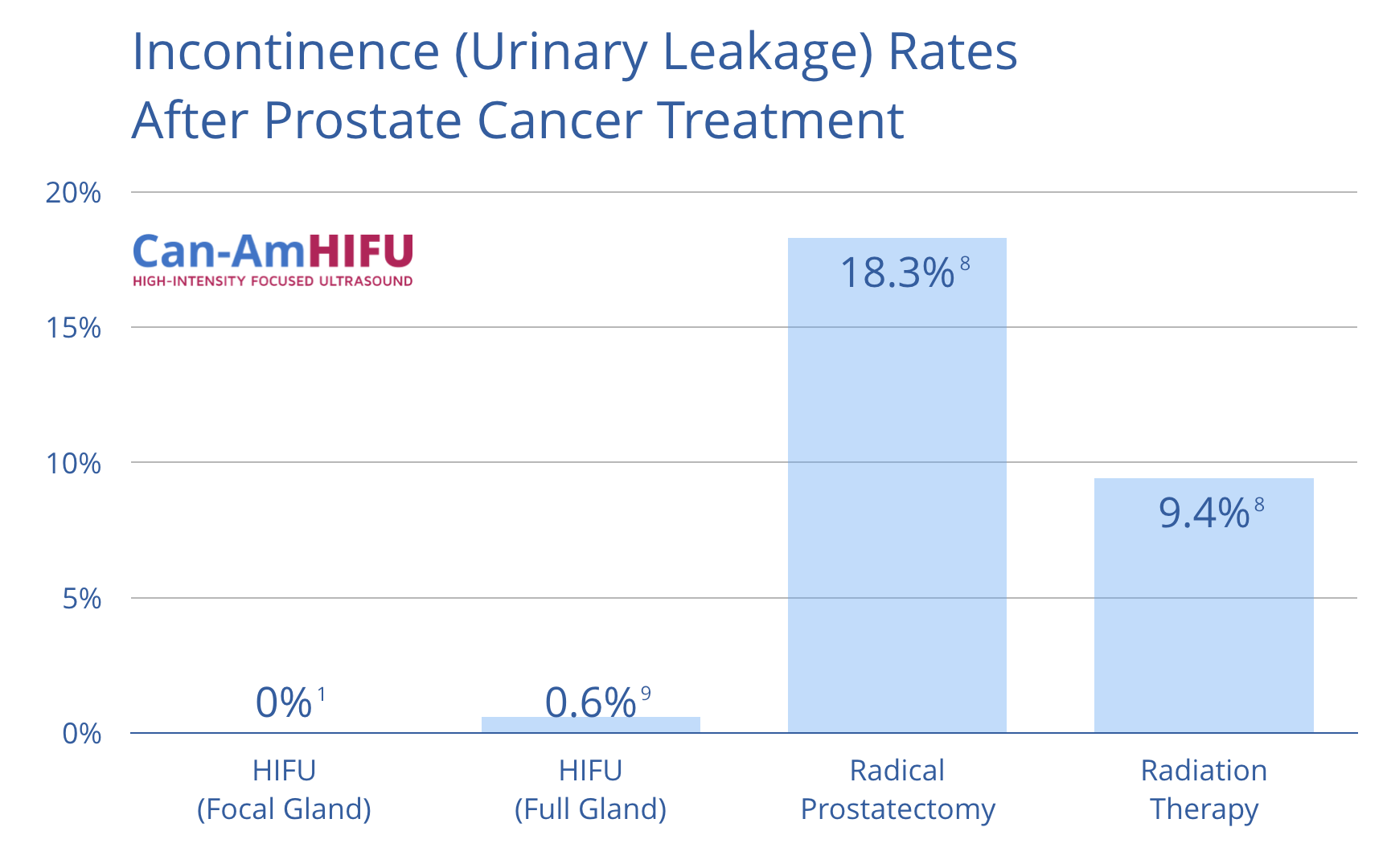 Here's what you can expect before, during and after a HIFU Procedure.
High-Intensity Focused Ultrasound is a technology with over 40 years of research behind it. It is currently approved for prostate cancer treatment in over 50 countries, including Canada and the US.
1. Ahmed, HU. (2012). The Lancet Oncology. Focal Therapy for Localized Unifocal and Multifocal Prostate Cancer: A Prospective Development Study, 2045(12), 70121-3.
2. Uchida, T. (2012). 11th International Symposium on Therapeutic Ultrasound. AIP Conf. Proc. Twelve Years' Experience with High-Intensity Focused Ultrasound (HIFU) Using Sonablate Devices for the Treatment of Localized Prostate Cancer. 1481, 401-406.
3. Novara, G. (2012). European Urology. Systematic Review and Meta-analysis of Studies Reporting Oncologic Outcome After Robot-assisted radical8Prostatectomy. 62, 382-404.
4. Alicikus, Z. (2011). Cancer. Ten-Year Outcomes of High-Dose Intensity-Modulated Radiotherapy for Localized Prostate Cancer. 1429-1437.
5. Ahmed, HU. (2009). BJC. High-intensity-focused ultrasound in the treatment of primary prostate cancer: the first UK series, 101, 19-26.
6. Ahmed, HU. (2011). Journal of Urology. Focal Therapy for Localized Prostate Cancer: A Phase I/II Trial, 185(4),1254-5.
7. Zacharakis, E. (2008). BJUI. The feasibility and safety of high-intensity focused ultrasound as salvage therapy for recurrent prostate cancer following external beam radiotherapy,102, 786-792
8. Resnick, M. (2013). The New England Journal of Medicine. Long-Term Functional Outcomes after Treatment for Localized Prostate Cancer. 368, 436-45.
9. Ahmed, HU. (2009). BJC. High-intensity-focused ultrasound in the treatment of primary prostate cancer: the first UK series, 101, 19-26.